A Party Wall - Explained

Party Wall matter is very important, so you must check if you will need Party Wall agreement or not.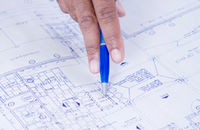 Before you do any construction work that will be within three meters of neighbour's boundary that you share - whether it's in your living room or loft or garden wall, you should find out if you need a party wall agreement or not. If you have any doubts then please check this with your Architect. The Party Wall agreement is done by Party Wall Surveyor that is appointed by you or your Architect.

Please note that each of the neighbours may appoint their own Party Wall Surveyor or they can use your Party Wall Surveyor. Also please note you will be responsible for all the Party Wall Survey cost even for your neighbours Party Wall Surveyors as well.

Here's what you need to know about Party Wall Matters.

What Is A Party Wall?
Walls shared by adjacent properties are usually jointly owned by the two owners and are termed party walls. However, a party wall isn't only the wall between two semi-detached properties, it is also a: wall forming part of only one building but which is on the boundary line between two (or more) properties; a wall which is common to two (or more) properties, including where someone has built a wall and a neighbour has subsequently built something butting up to it; a garden wall, where the wall is astride the boundary line (or butts up against it) and is used to separate the properties but is not part of any building; the floors and ceilings of flats, apartments, and maisonettes.

 
Why Does A Party Wall Matter?
If you share a party wall you have a legal responsibility when it comes to carrying out certain works. In fact there is a Party Wall Act 1996 that came into force in 1997 that gives right and responsibilities to both sides sharing a party wall when one or other party wall owner is planning or undertaking work on the said party wall.
What Work Can Be Done Without Notice Or Permission?
You don't need to notify anyone if you are only doing small jobs, such as putting up shelves and wall units, replastering, or electrical rewiring, for example.
What Work Does Require A Party Wall Agreement?
The types of work covered by the Party Wall Act 1996 include: demolishing and/or rebuilding a party wall, increasing the height or thickness of a party wall; inserting a damp proof course; cutting into the party wall to take load bearing beams; underpinning a party wall.
When Do I Need To Give Notice?
If you think that any work you are proposing might have an effect upon the structural strength or support function of the party wall, or might cause damage to the neighbouring side of the wall, notification must be made. If in doubt, advice should be sought from a local Building Control Office or professional surveyor/architect.
Should I Talk To My Neighbour First?
It would be advisable to discuss your plans with your neighbour first. You may find that they have no objections, or would go halves with you on the work because they consider the job needs doing, too. Even if they are not 100% supportive of your decision they will no doubt appreciate being asked for their opinion. Regardless of whether they agree to the work being undertaken, and if the planned work to an existing structure falls under the Party Wall Act, formal notice must be served.
What Does The Formal Notice Cover?
The formal notice document will include: the name of the owners of the property where the work is being undertaken and their address; the owner's names of the adjoining property; a description of the proposed work; a proposed start date for the work; a statement that the notice is being served under The Party Wall etc Act 1996; and the date the notice is being served.
When Should Notice Be Served?
The person applying for the notice and who is intending to carry out the work must serve a written notice on the owners of the adjoining property at least two months before the intended start of the work.
How Long Does The Recipient Have To Respond?
The neighbouring party should respond in writing within 14 days of receiving the notice whether they give their consent or if they are registering dissent (not giving their consent). If a neighbouring party does nothing within 14 days of receiving the notice, the effect is to put the notice into dispute.
What Happens If There's A Dispute?
Firstly, no work may commence until all neighbouring parties have agreed in writing to the notice. If the original notice is disputed, a revised notice can be issued subject to mutually agreed changes being made. If an agreement can't be reached, a surveyor is appointed to determine a fair and impartial award. Once an award has been made, all parties have 14 days to appeal to a County Court against the Award.
When Can Work Commence?
Work can begin once an agreement has been reached, the notice has been accepted and permission granted. Of course, all work undertaken must comply with the notice. All the agreements should be retained to ensure that a record of the granted permission is kept.
What Doesn't A Party Wall Agreement Cover?
The Party Wall Act 1996 does not affect any requirement for Planning Permission or Building Regulation Approval for any work undertaken. Likewise, having Planning Permission and/or Building Regulation Approval does not negate the requirements under the Party Wall Act.
 
All our Business is from recommendations. We can advice you for Planning Application, Building Regulations and Party Wall matters.