Garage Conversions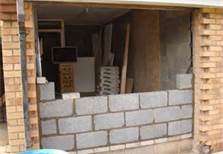 Garage conversions can give you that much needed extra space in your home to use as you wish. Utilising your garage space could provide you with an office, bedroom, living room or playroom, and offer you a more affordable alternative to an extension or house move.

The potential of this dead space is often just being ignored and that can be a huge mistake - especially when you consider that extra living space comes at a premium!


You have number of options. But here are some ideas to get you started:
Just an Extension to existing Room
We can finish and decorate the conversion in a way that suits your tastes and the room's purpose.

We recommed you check your deeds and go through Planning Permission and Building Regulations. Architect can help and advice on these requirements.

We have many years experience in Garage conversions. What ever your requirements or ideas please do not hesitate to contact us.