Bathroom Planning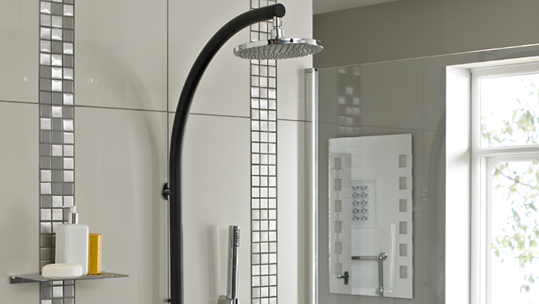 After kitchens the bathroom is can increase the value and utility of your home. Experts agree that, when you are selling your house, you can expect to recover more than the original cost of the bathroom installation. A luxurious room to relax in and relieve the days stress is a desirable requirement in a modern household. So every aspect of your bathroom has to be well considered, from sanitary ware and fixtures down to flooring and wall finishes.
Most traditional bathroom layouts can be re-arranged to gain additional space for the "all important shower," or simply renew the existing suit. An alternative can also be to increase the area by removing walls and unite a separate toilet and bathroom.


When designing a new bathroom it is important to consider the following points:
Ensure that the floor will be durable and 100% waterproofs. Also floor should be able to withstand the anticipated traffic for years to come. Good quality tile floor / Good Quality grout and adhisive with Plywood backing is recommended.

We recomment non gloss or non slip floor tiles.

Ensure that the walls are 100% waterproofs. Good quality fully tiled walls floor is recommended. For ceiling we recommend Bathroom Water Repellent Paint.

Ensure all joints are waterproof and finishing is good.

The Good Quality and Good Brand Bathroom furniture is recommended.

The fixtures must be attractive and be consistent with the look you wish to achieve.

There must be enough space reserved for a mirror with shaver socket and Lights. We recommend top quality bigger possible mirror.

The Good Quality and Good Branded Shower with enough space is recommended. Considerations to be given for drainage and drainage servicing.

The toilet must be durable and in keeping with the overall design of the bathroom.

Electrical & Plumbing lines must be well insulated and meet Building Control and legal requirements.

The lighting must be well centred to illuminate the whole room. IP66 Light Fitting is recommended. All electrical must meet Building control and legal requirements.

There should be proper ventilation. We recommend Power Exhaust with timer switch that connected with the bathroom lighting circuit.

If the windows are too old then we recommend replacing these with Double Glazed new Window.

A towel Warmer installation is recommended.

Bathroom is the smallest room in the house. Enough Storage units' installations are also recommended for Bathrorom to have uncluttered and good clean looks.

We recommend you to Plan it, Plan it and Plan it again before making final decision.
A bathroom can be renovated for a variety of reasons. The main reason is for modernisation. Bathroom and Kitchen modernisation will increase the House value and will have most utility factor.
Bathroom renovations could be carried out on a variety of areas including layout, introducing new fixtures and fittings, paintings, addition of mirrors and other minor areas to give the bathroom a facelift.
Ideas for a renovation project can come from browsing through magazines, visiting show homes or window shopping in Bathroom Stores – Croydon Plumbers Merchants / Home base / B&Q / City Plumbing etc.



To help you for Planning your Bathroom please click on the Picture supplied by Ideal Standard Bathroom.

This will open in new Page for you to design your new bathroom.

We, also have over 10 years experience in Bathroom Installations and House Refurbishments.
What ever your requirements or ideas please do not hesitate to contact us.