How to convert your garage - Step by Step Process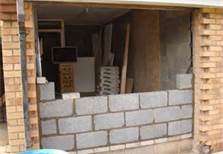 If you intend to convert your garage, we would recommend contacting a specialist garage conversion company to ensure that the job is done professionally. A bad garage conversion can reduce the value of your home and, if it does not comply with building regulations or the specifics of your leasehold, you may be forced to return it to its original condition. Before committing to a builder or any other professional, remember to check that they are registered with a reputable trade organisation, such as the Federation of Master Builders (FMB).
In this section, we will take a step-by-step look in-depth at the various stages involved in converting a garage, and roughly what must be done in each to satisfy the Building Regulations stipends.
In-fill Garage Door
A traditional garage door designed for the easy access of automobiles is unlikely to be suitable for your garage conversion. It is neither practical in terms of insulation and light, nor aesthetically pleasing. To this end the old garage door will have to be filled in with a new wall to house a new door and possibly a window. The original foundation of the garage will most likely be a shallow slab and thus insufficient to support the new wall, in which case a deeper foundation needs to be dug. Soil type, adjacent buildings, nearby trees and the resulting drainage conditions need to be assessed in order to estimate what depth and type of foundations are necessary, especially if your house was built on a landfill site.
Walls below Ground Level
Depending on what foundations are deemed necessary for your particular conversion, a greater or lesser amount of wall construction needs to be undertaken. Walls underneath the ground (substructure) must support the construction above (superstructure) and, to be effective, these sub-walls must be made from brick that is resistant to ground frost and sulphates present in the soil.
New External Walls
It is likely that at least one completely new external wall will be needed for your garage conversion, such as in the case of the in-fill garage door. External walls constructed of timber and/ or masonry come in two types:
1.Solid wall - Just a single wall. Due to present day thermal insulation requirements, it is unlikely that such a wall will be suitable.
2.Cavity Wall - Two walls separated by an internal space, usually filled with thermal insulation.
Any external wall must be constructed in such a way as to repel and divert moisture coming from the ground (damp proofing) and stand up to the outside elements (weather resistance). Thermal resistance is the term given to how much heat the wall will retain and this is naturally affected by your construction materials. Fire resistance is crucial to stop the spread of fire in any eventuality, this is ascertained via minimum standards and affected by the proximity of any neighbouring structures. Lastly, the wall will have to bear its own weight, that of the other walls, the roof and any openings (doorways) as required.
Existing Garage Walls
It is most likely that your existing garage walls are of the solid wall (single) variety as detailed above. As such, they will probably fall short of Building Regulation minimums across a variety of categories such as Fire Resistance, Insulation, Weather Resistance and Damp Proofing. Furthermore, they may not be able to safely support any new roof you have planned. Therefore, they will need to be upgraded with a new internal skin and carefully assessed in terms of Damp-Proofing.
Flooring
The existing garage floor is unlikely to be suitable for regular domestic use. The solid concrete floor can either be upgraded in terms of strength, damp-proofing and thermal insulation or, alternatively, a new suspended timber floor can be built on top of the existing concrete one. The process of making your garage fit for habitation differs according to which floor you wish to install:
1.Solid Floor - This will need to be upgraded with a Damp Proof Membrane (DPM), which comes in solid and liquid form. Liquid DPM is often best suited for garage conversions. If required, thermal insulation should be placed on top of the membrane and a separation layer may be needed in between to see that the two layers do not react with each other. Finally, the floor is finished with what is known as a floating floor, a layer of wood or screed - depending on the insulation below. If screed is used, it should be around 75mm thick and safeguarded against cracking with a wire mesh.
2.Suspended Timber Floor - Unlike your garage, the floor of your house may be constructed fairly high above the ground and, if you wish, you can install a suspended timber floor in your garage conversion to match this. Timber joists are laid from wall to wall with a minimum gap of 150mm maintained between the original concrete floor and the new timber one. A Damp Proof Course (DPC) should be laid underneath the timber floor and an intermediate wall may be necessary for further ventilation.
Garage Roof
Unless there is a room above it already, the existing garage roof - originally designed to keep the rain off your car - is most likely going to need to be upgraded in any garage conversion. Which type corresponds to your garage roof?
1.Flat Roof - This will need to be ventilated with a 50mm gap between the underside of the roof and any insulation as standard.
2.Pitch Roofs - Extra insulation can be placed between the ceiling and the roof, just as in a normal loft.
Ventilation
Any room in a house must have adequate ventilation and the level of ventilation required depends on the room type - bathrooms and kitchens obviously require more than bedrooms or studies. An opening window must be installed which equals one-twentieth the rooms total floor-area. Additional ventilation comes in the form of trickle ventilators and alternative means of ventilation may be discussed on a case-by-case basis with the Building Control Body. New kitchens, toilets, bathrooms, shower rooms and utility rooms must be fitted with a mechanical extractor fan with performance levels measured in litres per second.
Electrics
Any electrical work needs to be carried out in accordance with the British Safety Standards 7671, you can find out more at the website of the British Standards Institution (BSI).