How is it done?
How to make a great dry basement conversion?
We use a system of special concrete mix, plastic & waterproof membranes and pumps & drains system to create a dry usable space that has easy access and as maximum possible daylight. All of work complies fully with required Building Standard requirements.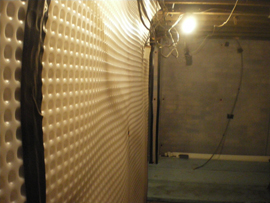 The membrane covers the walls and the floor and exists to collect the water in one place where it can be pumped into a nearby drain. The membranes are sealed together to effectively resist the ingress of damp and water. Finally the membrane is completely covered with plasterboard and offers a clean, aesthetically pleasing wall. All services such as electrical cables and pipes are contained behind the plasterboard.
The floors are also an important structural element in supporting the building above, as well as resisting water pressure from below. Typically they will incorporate insulation to ensure that your building remains thermally efficient.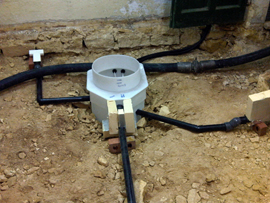 We use very latest in pumping technology to ensure that whatever the British weather and British Ground conditions the system can easily cope. We always install twin pumps (more that twin for larger projects), so that if one fails, the other one will handle water ingress. All of our systems incorporate warning alarms to notify of any pumping problems. Also the pump installation is easily serviceable.


How is it done? - Step by Step


Here are the key steps for your Loft Conversion Project:
We have many years experience in Basement Conversions, House Extension, Kitchens Installations and Bathrooms Installations.
What ever your requirements or ideas please do not hesitate to contact us.